The beginning of January
As soon as we returned from Lithuania, during the first week of January we had to step into the intensive final weeks of the first semester. Nevertheless, we had lots of fun!
The following week began with a new module about the Epistle of Ephesians, which was taught zealously by a teacher from California. Because of quarantine restrictions classes are still happening remotely.
We learned a lot about the context of the epistle as well as about the content of it. Since there was a lot of information to compile, we even had to write three tests in three days! Thus there was no time to rest…
Longing for Lithuania and the January Events in Hungary
We have noticed an interesting phenomenon: the longer we are away from Lithuania, the more patriotic we feel about it! Therefore we decided to commemorate The January Events of Lithuania here in Hungary.
If you are reading this in English, you might be thinking "what are the January Events?" Well, let me give you a short lesson about Lithuanian history!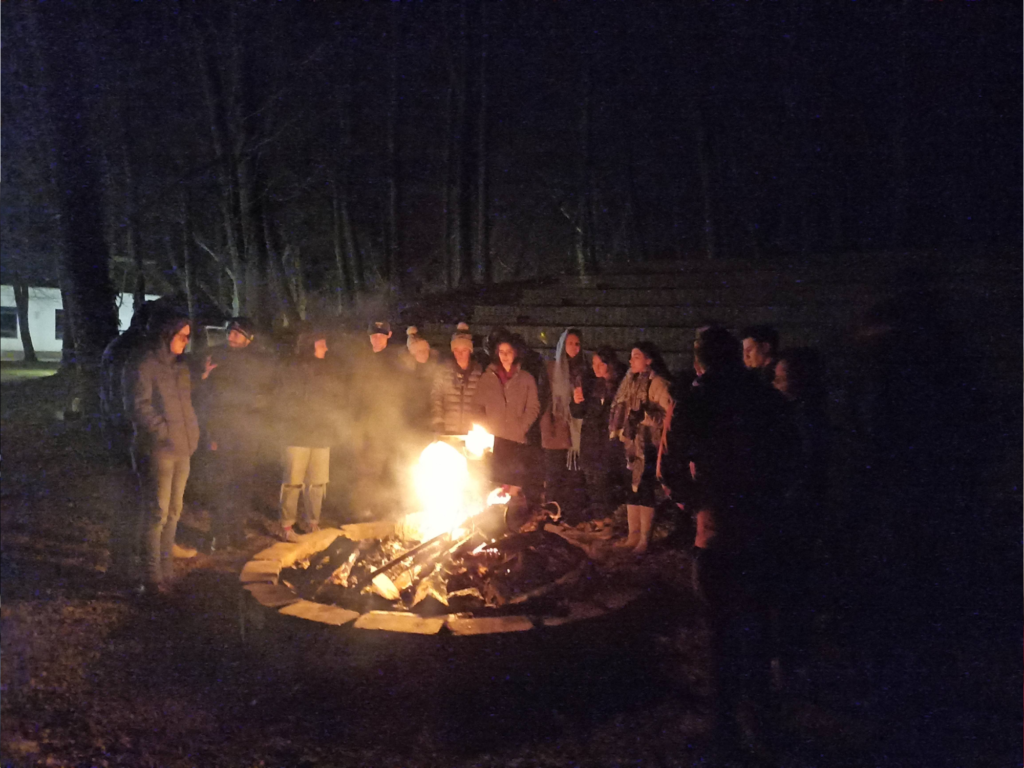 Back in March of 1990, Lithuania was the first country inside the Soviet Union to declare its independence de jure. And our East neighbor (The Soviet Union) did not like it. Therefore the Soviet Union was using political, economical, and military pressure to incorporate Lithuania back into the Soviet Union. After 9 months, in the January of 1991, Mikhail Gorbachev ordered a Soviet tank division for military intervention in the capital city of Vilnius. But Lithuanians peacefully tried to resist it: they flooded the streets of Vilnius and formed human chains to stop the tanks. And after three days of dread and horror, because of the influence from the West, the Soviet army had to stop the intervension. And that is how we got our freedom de facto.
Coming back to us, we commemorated the 30th anniversary of January Events by having a nice campfire with worship songs and thanksgiving, and a prayer that God would provide freedom in other parts of the world as well.
Arnas' enlistment to military
The next day the list for the training of the Lithuanian compulsory military service for the year 2021 was published. and I was at the top of the list. This means that I was not only called up for service but also required to show up to the Alytus district military training ground by February 9.
A little upset and shocked, I tried not to be disappointed and look for a way out. The next day I called the training ground and found out what documents I need to submit in order to postpone military service while I am still studying. Or maybe forever.
Two weeks later, I received a reply that compulsory military service had been postponed. Thank God!
Student life
One Friday night together with other students we watched the movie "American Gospel – Christ Alone". We finished watching quite late, therefore we had a discussion about the movie the next day during lunch.
In addition, one missionary couple from Brazil began leading a group for married and engaged couples every Monday. We have already had three meetings. Every time we have a delicious dinner with the other four couples. After that, we share our experiences and struggles. We encourage each other, by looking at what the Bible teaches about relationships and with a prayer.
The end of the first semester
We managed to finish our first semester very well. We didn't get too tired because with God's help and discipline we were able to read and do everything on time. Of course, we felt stressed out from time to time. For example, we had to write six tests in one week. In addition, we had to write two exams and present one final project. However, God really blessed us and overall we scored more than 90% of the points for all the subjects. We finished several modules that were completed by scoring 100% of the points (maximum).
We decided to share with you the video of one of our projects we had to prepare for the hermeneutics class. The story of slave Onesimus, described in an epistle to Philemon, had to be presented to the children of Sunday School. Together with Gabriele, we decided that the best way to do this was to create a short cartoon. If you're interested in viewing our hilarious two-minute modern interpretation of the story of Philemon and Onesimus, you can do so by clicking the link here:
Services
If someone were to say that there are no opportunities to serve during quarantine, we would certainly disagree. Lately, God has given us very good opportunities to ministry. So here I will share a little bit more about that.
Lecture in school
At the end of December, my former school (which I graduated from last summer) announced that it was looking for graduate high school students who could share their life experiences for Alumni Day. After coming up with the topic of the lecture, praying, and not thinking much, I decided to fill in the application. My theme sounded like this: "How to draw healthy boundaries for society and the surrounding environment to protect our internal identity?". So with great consistency, I started preparing for the lecture. Big thanks to my personal mentor Joshua B., who helped me a lot to prepare for the lecture.
During the lecture, I expressed the idea that in order to have healthy boundaries, we must have an objective moral basis on which we could draw conclusions as to whether the boundary we draw is moral and right or not. Inevitably, I had to explain what I considered to be an objective basis of morality. So I shared that the best objective basis for morality is God and the Bible.
For the first time in 20+ years, this day was organized remotely. And that's the only reason I was able to share the message while being 932 miles from school. By the way, the lecture was heard by a minimum of 104 participants who were connected to the ZOOM platform. I thank God for this opportunity!
Friday youth group
Another great service opportunity came because I have the antibodies of COVID-19 and acquired immunity for a few more months. (You can read more about that in our previous blog here: December). That is why I am now serving in a youth group in one of the churches in Budapest on Friday evenings with several Hungarian guys.
Home church
Because we can no longer have a church at our institute on Sundays due to quarantine restrictions, we decided to start a home church together with a couple of other students and interns. We meet every Sunday and do our little church service only with 10 members (this is the maximum number of people allowed in one room in Hungary). Due to the small number of members, everyone has a small ministry: one leads the worship, the other prays, and the third shares the word.
This Sunday we had our first meeting and it went great. Gabriele had the opportunity to serve leading worship songs, and I was able to pray for the needs of the members. We pray that we may continue to gather and glorify the Lord in our small and cozy home church.
Staff houses and family nights
It is very nice that the staff of the institute often invites students to come (especially after most of us got the COVID-19 antibodies). During these evenings we have a lot of fun together, also encouraging one another in this gloomy and quite sad season. We often spend those kinds of evenings with a cup of tea and playing board games. We thank all the staff of the WOLH Institute for an open door and big hearts!
Final greetings
That's how our January passed by. Thank you for all prayers, support, and encouraging messages we receive from you. Greetings to friends and readers from Lithuania and other parts of the world!
— Arnas Valentukonis